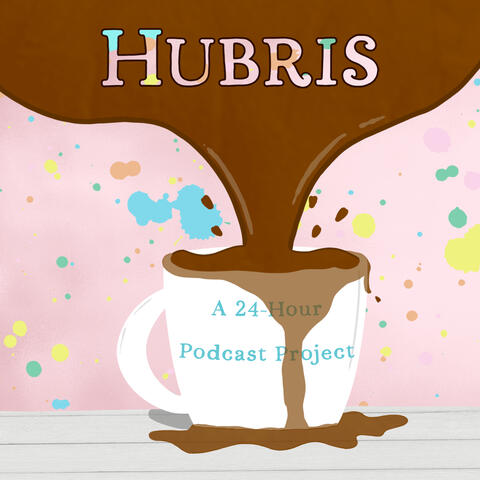 Welcome to Hubris
Can you make a fiction podcast from scratch in 24 hours?
We're sure going to try!

Round 2 of Hubris is currently releasing weekly in our podcast feed.

We've got two rounds under our belts and Round 3 is starting to feel a little bit "go big or go home"!

If you'd like to participate in future rounds of Hubris, complete our sign-up form to be contacted when we start working on the next round!
Episodes
Once we begin releasing episodes of Hubris, you'll be able to find links to individual episode information and our transcripts here!
About
Hubris is a labor of love from a chaotic group of podcasters who decided a 24-hour podcast challenge sounded like a good idea.

Six teams participated in the first round of episode creation in December 2020, each making a standalone piece in a single weekend. The second round was made up of ten teams and took place in March 2021. The upcoming third round will be capped at ten teams and will take place in August/September 2021, with dates to be announced.

Produced by Caroline Mincks, Anne Baird, and Tal Minear.
Subscribe to Hubris here or wherever you get your podcasts.
---
FAQ
How does it work? With a large group of podcasters from around the world, we'll be assembling several Creative Teams made up of writers, audio producers, and voice actors to create a single-episode fiction podcast within a 24-hour period from start to finish. Once the creation period is up, we'll schedule the release of all of the episodes in a public feed for everyone to enjoy!

Do I have to stay awake for 24 hours straight? Oh absolutely not! Writers only have to be awake when writing, voice actors when recording, and audio producers when they're working on sound design. Now, that doesn't mean you can't stay up for the entire 24-hour period, but that's up to you and we would recommend against it. Please get some sleep.

How can I participate? If you'd like to participate in future rounds of Hubris, complete our sign-up form to be contacted when we start working on the next round!
Sign Up for future rounds of
Hubris: A 24-Hour Podcast Project
Want to participate in future rounds of Hubris?
Complete the form below to be contacted when we start working on the next round!
Round 2: "SPRING"
Theme: "Spring"
Production Period: March 13th-14th, 2021

Teams for Hubris Round 2 were given the theme of "Spring" and allowed to outline and brainstorm their episodes ahead of time. We increased the number of teams for this round from six to ten, and all were able to complete their episodes within the 24-hour period!
Round 1: "All-Nighters"
Theme: "All-Nighters"
Production Period: December 12th-13th, 2020

For the first round of Hubris, our teams were randomly assembled and provided with the theme "All-Nighters". Teams were allowed to brainstorm ahead of time, but all the episodes were made within 24 hours on December 12th and 13th, 2020.
Episode 1: "HOPE ON THE HORIZON"
Miles above the Earth, an astronaut faces a life-or-death repair. Safe on the ground down below, an amateur ham radio operator struggles to stay awake for an extra-special aurora. Among solar storms and accidental connections, a little perspective might be just what they need.
Content Warnings: Allusion to death, a radiation storm, and extreme space weather.
Created by Team 1: Think Tank
Writer - Rashika Rao
Script Editor - Grace Keller Scotch
Director - Nikko Goldstein
Dialogue Editor - Kathryn Stanley
Sound Designer - Nikko Goldstein
Transcriber - Rashika Rao
Voice Actors - Kathryn Stanley as HOPE, Grace Keller Scotch as CHARLIE, Nikko Goldstein as FRANKIE, and Rashika Rao as MISSION CONTROL and the RADIO ANNOUNCER
Music - Purple Planet
Episode 2: "EXIT, PURSUED BY A GHOST"
An understudy is tasked with learning the lead role overnight before making their big debut. The trouble is, that's a bit difficult to do when the theatre is distractingly haunted...will the ghosts help or hinder their attempts to get off-book?

Content Warnings: Some swearing and sword fighting sounds.
Created by Team 2: The Audrey 2s
Writers - Caroline Mincks, Molly Alexander
Director - Cole Burkhardt
Dialogue Editor - Cole Burkhardt
Sound Designer - Trace Callahan
Composer - Trace Callahan
Transcriber - Caroline Mincks
Voice Actors - Molly Alexander as CASSIE HAYES, Cole Burkhardt as DANIEL PROCTOR, Ms. Torres was voiced by Trace Callahan as MS. TORRES, and Caroline Mincks as CECILY WOLVERHAMPTON and STAGE MANAGER TABITHA
EPISODE 3: "JUST WAIT FOR DAWN"
Sometimes you think you're alone in the building, working all night, facing a deadline come morning. And then sometimes, the deadline is... surprisingly literal. Four unlikely companions face uncertainty together while the world falls apart around them in the last few minutes before dawn. Not for the faint of heart.

Content Warnings: Sirens, screams, explosions, depictions of violence and gore, and themes of horror. This episode is designed to be listened to on headphones or stereo speakers.
Created by Team 3: Hey You
Writer - Evan Tess Murray
Script Editor - Ishani Kanetkar
Director - Ishani Kanetkar
Dialogue Editor - Philomena Sherwood
Sound Designer - Brad Colbroock
Composer - Philomena Sherwood
Transcriber - Evan Tess Murray
Voice Actors - Evan Tess Murray as ANTHONY, Brad Colbroock as RAIN, Philomena Sherwood as CHARLIE, and Ishani Kanetkar as PRIYANKA
EPISODE 4: "MIRROR, MIRROR"
Every adventurer knows that Eliana is the artificer to see about all your broken magical equipment. But when a brash and foolish customer barges into her shop with a talking mirror on the fritz, what she thinks will be a simple repair job becomes something else entirely. There's much more to this chattering artifact than meets the eye.
Created by Team 4: Wizards At Podcasting
Writer - Katie Youmans
Script Editor - Cass McPhee
Director - Danyelle Ellett
Dialogue Editor - Cass McPhee
Sound Designer - Jason Gemenetzis
Transcriber - Katie Youmans
Voice Actors - Danyelle Ellett as ELIANA, Jason Gemenetzis as THE MIRROR, Katie Youmans as THE ADVENTURER, and Cass McPhee as THE DUPE MIRROR
EPISODE 5: "IDLE ETERNITY"
A found family of five vampires (and their vampire pup) pull an all-day-er on their family vacation to visit all the best tourist traps in Paris.
Created by Team 5: Delta
Writer - Leslie Gideon
Script Editor - David Orión Pena
Director - Tal Minear
Dialogue Editor - David Orión Pena
Sound Designer - Tal Minear
Transcriber - Tal Minear and Leslie Gideon
Voice Actors - Tal Minear as RAY, Erin Kyan as JAXON, Ari Delyne as JUN, David Orión Pena as OSCAR, and Leslie Gideon as GISELA
EPISODE 6: "TWISTED WISHES"
At the stroke of midnight two friends will try and summon a spirit to grant their wish, but nothing is ever that easy...

Content Warnings: References to Witchcraft and the occult, strong language, discussion of near death experiences, memory loss.
Created by Team 6: NothingRhymesWithPurple
Writer - Ali Hylton
Script Editor - Anne Baird
Director - Anne Baird
Dialogue Editor - Emmett Moon
Sound Designer - David Alexander Ortiz
Composer - Ali Hylton
Transcriber - Anne Baird
Voice Actors - Anne Baird as DYLAN, Khalila Marie as LINDSAY, and Emmett Moon as MORODRAS
Episode 1: "Not Safe For Work"

Content Warnings:
Writer -
Script Editor -
Director -
Dialogue Editor -
Sound Designer -
Composer -
Transcriber -
Voice Actors -